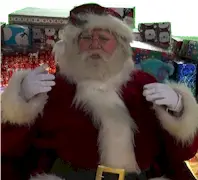 Christmas cookies are so delicious.  They aren't yucky cookies.  And they aren't cookies that give you hiccups.  And they certainly aren't spicy cookies!
Oh, how I wish I had some nice Christmas cookies. Every time Mrs Claus has tried to bake me cookies lately it has gone wrong.
Do you know why that is? Yes, my dear friend Clumsy the Elf has tried to help. Each time he has tried to help, something has gone wrong!
This time Mrs Claus was in the kitchen by herself. She had told no one. This was a top secret mission. A top secret cookie mission.
She had gotten all of the ingredients. Nothing had gone wrong.
She had mixed all the ingredients. Nothing had gone wrong.
She had double checked all the ingredients. Nothing had gone wrong.
She was about to put the mix onto the cookie sheet. In walked Clumsy reading a Christmas card. He was chewing on his favourite treat, a spice ball. Clumsy loves spice balls. I do not. They make my mouth taste like fire.
Clumsy was so busy reading his Christmas card he bumped right into Mrs Claus. She screamed. He screamed. Mrs Claus screamed again. Clumsy screamed again. He threw the spice ball up in the air. It stuck to the ceiling. Mrs Claus pushed Clumsy out the door. She locked the door and double bolted it.
A Spicy Cookies Adventure
Mrs Claus took her bowl. She walked under the spice ball. The ball dropped. Oh no! The spice ball landed on the table. Whew! The spice ball rolled down the table. It fell off and rolled across the floor. It rolled straight onto a spoon. Mrs Claus turned and stepped onto the spoon handle. The spice ball flipped up into the air and over her head. It bounced on one side of the bowl. Then it bounced on the other side of the bowl. It bounced out of the window.
The spice ball bounced onto a squirrel. The squirrel ran away. A bird spotted the squirrel. The bird spotted the spice ball. The bird though it was a tasty treat. It swooped down and grabbed the spice ball. One second later the bird dropped the ball. It's beak felt like it was on fire. The ball dropped back in through the open window. It dropped into the bowl of cookie mix.
Mrs Claus did not notice so she baked the spicy cookies.
When I first bit into the cookie it was delicious. One second later I felt like my mouth was on fire. I had to drink nine glasses of water. It tool a long time for me to feel fine again. It made me cry. That spicy cookie made my tongue swell up! It made my cheeks turn pink. It made my lips turn bright red. I don't think I like spicy cookies!
I hope you never have to taste spicy cookies like that!
Santa Claus
P.S. Have you ever eaten spicy cookies or something else really spicy? Did you like it or did it taste like fire? You can click here to tell me or, scroll down to see what spicy things other people tried.
A right jolly old elf, in spite of myself. I love Christmas, children, the North Pole, Mrs. Claus, elves, reindeer, snowmen & the list goes on!
My title is CEO: Christmas Elf Online.
Merry Christmas!