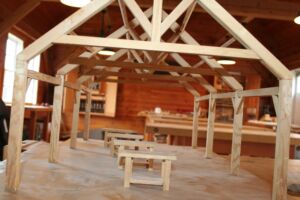 Everyone at the North Pole knows Mrs. Claus is the boss. She keeps the place running smoothly.
That's why we gave her the day off.
Today the elves and I told her to sleep in. Then she could have a nice, long bubble bath.
At the same time, the elves got to work cleaning the house. They wanted it to shine from top to bottom.
Clumsy started scrubbing the kitchen counters. He knocked the bin of flour onto the floor. CRASH!  Flour spilled everywhere!
Clumsy acted quickly.  He poured a basin of water onto the floor and started washing.
Oh, oh!  He found out what happens when water and flour mix. It turns into a gummy mess!
Poor Clumsy. The more he tried to help, the bigger the mess get!  He plopped onto the floor. He sadly picked up a GIANT ball of sticky goo.
Kissy the Elf came into the kitchen and spotted the mess.
She ran over and grabbed the gooey ball from Clumsy.
Instead of being upset, she smiled.  She hugged Clumsy and told the other elves to get some buckets.
A Clumsy Elf Saves Christmas (a little bit)!
They scooped up all of Clumsy's goo and took it back to the North Pole workshop.  They had been searching for a paste that would hold the dollhouses together. Clumsy's mess was perfect!
Clumsy was thrilled.  The mess on the floor was gone.  And, his mistake had helped save Christmas for everyone who wanted a dollhouse!
He cheerfully finished cleaning the kitchen just as Mrs. Claus came in for a cup of cocoa.  She had no idea that her kitchen had been the site of a great discovery.
But she did appreciate the way it sparkled!
Merry Christmas!
Santa Claus
P.S. Have you ever made a great discovery by accident? You can click here to tell me about it or, scroll down to see what other people have written!
A right jolly old elf, in spite of myself. I love Christmas, children, the North Pole, Mrs. Claus, elves, reindeer, snowmen & the list goes on!
My title is CEO: Christmas Elf Online.
Merry Christmas!