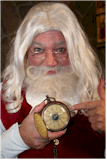 Ho! Ho! Ho!  It's beginning to smell a lot like Christmas!  So, MERRY CHRISTMAS my friends!
I am so glad you found my Santa Claus Christmas blog!  My name is, well, Santa Claus.  Maybe you've heard of me?  I am a big, jolly guy.  I live in a mystical, magical place full of elves, reindeer, snowmen, and of course, Mrs. Claus!
Continue reading "The Santa Claus Christmas Blog is back!"
A right jolly old elf, in spite of myself. I love Christmas, children, the North Pole, Mrs. Claus, elves, reindeer, snowmen & the list goes on!
My title is CEO: Christmas Elf Online.
Merry Christmas!