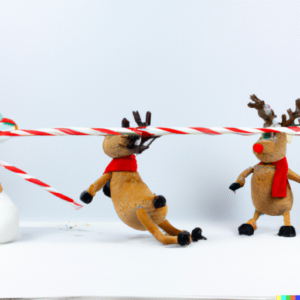 Have you ever heard of candy cane limbo skating reindeer before?  Well, neither had I, until today!
Today was limbo skating day in the Reindeer Games.  Cupid had learned all about this strange sport.  People try to roller skate under very low things.  The winners get REALLY low.  They do the splits on roller skates! Cupid thought the reindeer could try limbo skating on ice.  Reindeer do not need ice skates.  Reindeer hooves make great skates!
Continue reading "Candy Cane Limbo Skating Reindeer"
A right jolly old elf, in spite of myself. I love Christmas, children, the North Pole, Mrs. Claus, elves, reindeer, snowmen & the list goes on!
My title is CEO: Christmas Elf Online.
Merry Christmas!