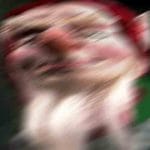 Did you ever wonder why hardly anyone ever sees one of my scout elves?
My silly little poem about scout elves might help!  🙂
Elves are fast.
Elves are cool.
They watch all
the kids at school!
Continue reading "Scout Elves are fast! Click to find out about their little secrets!"
A right jolly old elf, in spite of myself. I love Christmas, children, the North Pole, Mrs. Claus, elves, reindeer, snowmen & the list goes on!
My title is CEO: Christmas Elf Online.
Merry Christmas!