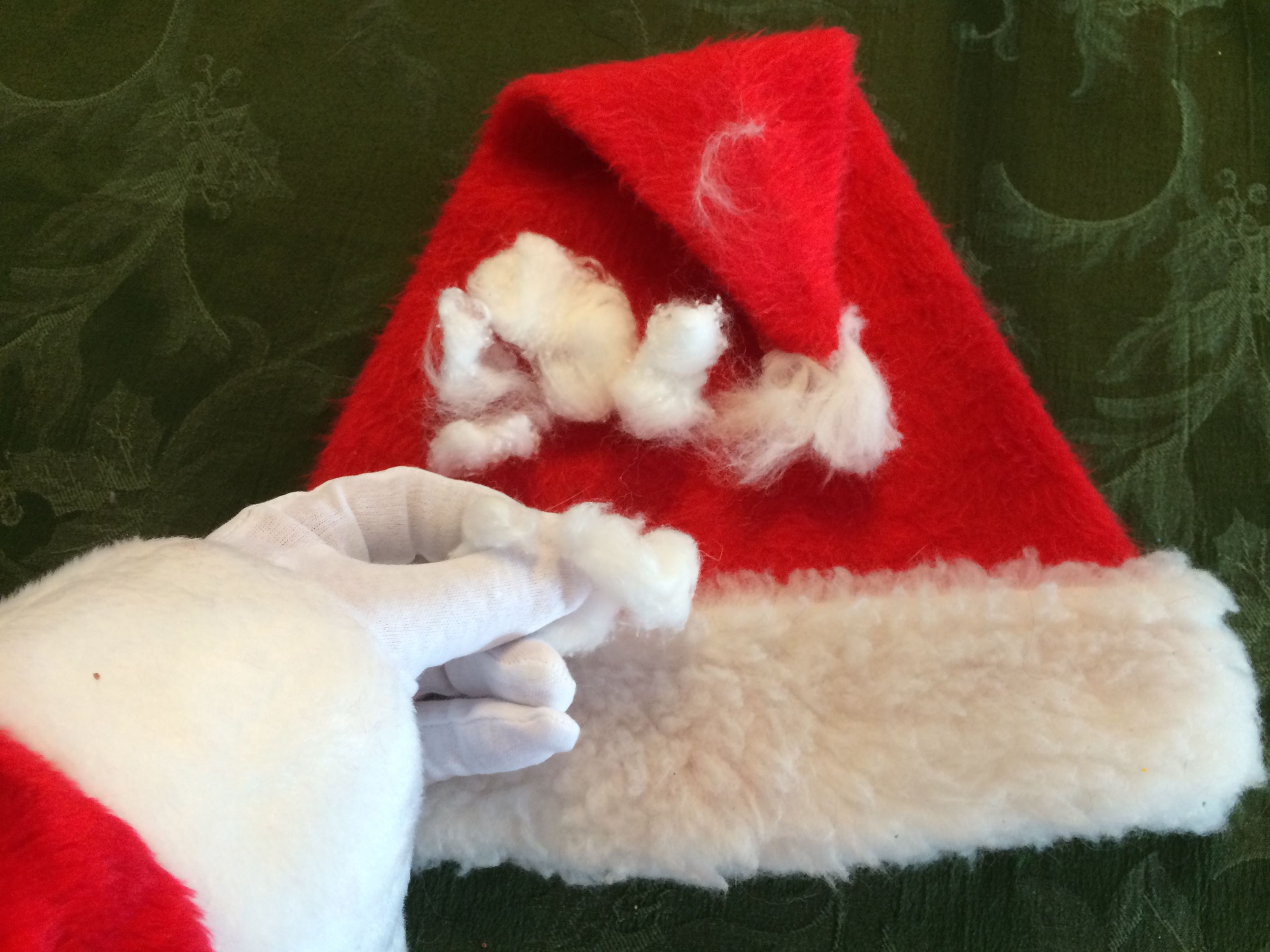 Those crazy Christmas kitties have been busy!
Did you read my story about the kitty in the Christmas tree?
Did you read my message about how Mrs. Claus got the kittens?
Would you like to find out what those crazy kitties are up to now?
Well, the Christmas kitties are having lots of fun scampering around the North Pole.  They really like to scamper and scurry late at night when everyone's asleep.  That's when they really get into mischief!
A Poem About Crazy Kitties And Santa's Hat
Do you know my nice red hat?
Do you know about the cat?
That crazy kitty in the tree
That crazy kitty that startled me!
Well that crazy kitty did it once more
That crazy kitty my hat did tore!
My poor old hat's all over the floor! 🙁
Bits of fluff and bits of cotton,
That crazy kitty is downright rotten!
My hat, I'm afraid, is not the same.
My hat is ruined, such a shame.
And I know the kitty who is to blame!
But worst of all, it has no name!
The names you've given sure are great.
We'd like some more!
We cannot wait!
Mittens and Snowflake and Stinkbug too
Let's hear some more…
great names from you!
OK, OK,
OK, its true
Stinkbug wasn't a name from you!
But all i see is my poor old hat
And Stinkbug's a good name
for the cat that did that!
I know, I know,
She's just a kitty.
But what she did was such a pity.
(even if she's itty-bitty!)
My poem is over
My story is done
I'm loving your names
For cat two and cat one.
Please send us some more!
This really is fun. 😊
It's a good thing I have quite a few hats!
Mrs. Claus and I love reading all the great names you've come up with!  Will you send us some more?  I'm just worried about what Cat Two and Cat One will do next!
Santa Claus
P.S.  What are some crazy things your pet has done? What are some more great names for the kittens?  You can click here to tell me or, scroll down to see the names from other people!
A right jolly old elf, in spite of myself. I love Christmas, children, the North Pole, Mrs. Claus, elves, reindeer, snowmen & the list goes on!
My title is CEO: Christmas Elf Online.
Merry Christmas!