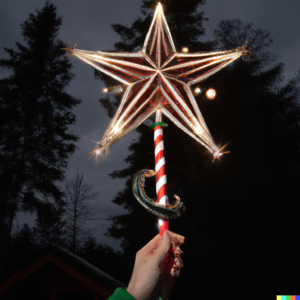 The Reindeer Games are special this year.  They are the Olympic Reindeer Games!
The reindeer want to be Christmas Olympic stars.  The elves are going to join in too.  They all saw the Olympics on TV!
It was the opening parade today. Mrs Claus made special flags for the elves. The toy-maker elves had little crossed hammers on their flags.  The dress-making elves had stripes and stars on theirs.
Each group of elves also wore special matching outfits.  The baking elves all had on chef's hats and waved their little wooden spoons to the crowd.  The baking elves even threw gummy bears to the crowd. Yum!
The reindeer had Olympic rings on their antlers. Vixen had blue rings. Comet had yellow rings. Donner had black rings. Cupid had green rings. And Rudolph had red rings ─ to match his nose!  At least one Olympic colour is in every flag around the world.
What a jolly holly time we had!
Scunner the Grumpy Elf had a special new  job.  I'm hoping nothing will go wrong this time!  Scunner's job is to keep the Olympic torch safe for the entire games.
I could see Scunner was nervous already.  Clumsy the Elf was holding the Christmas Olympic torch.  The torch was a shiny Christmas star on top of a candy cane.
The Christmas Star, Olympics-style
Clumsy the Elf had a special job too.  The star had to go on top of a special tree. The star would light up all of the lights on the tree. It was very exciting.
Clumsy the Elf stepped forward. Everyone got ready to cheer. But guess what?
Clumsy the Elf slipped on a gummy bear! The Olympic star flew high into the air. It landed on Rudolph's antlers. His nose lit up! "Look," said the elves. "It's Rudolph the Olympic star!"
Merry Christmas!
Santa Claus
P.S. Did you watch the Olympics and the opening ceremonies?  What do you think was the best part?  You can click here to tell me or, scroll down to see what other people have written!
A right jolly old elf, in spite of myself. I love Christmas, children, the North Pole, Mrs. Claus, elves, reindeer, snowmen & the list goes on!
My title is CEO: Christmas Elf Online.
Merry Christmas!