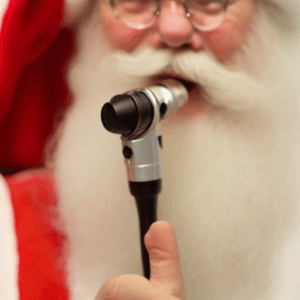 Many children ask, "Is Santa sick"?  Here's my answer.
Now that it is so close to Christmas, I want to be sure that I do not get sick!  A few elves have caught the cold, so I have to be extra careful!
Would you like to find out if I am going to be healthy for Christmas?
Do not worry.  I am sure I am going to be healthy for Christmas!  I have some tricks up my sleeve.
Of course, the first thing I did was get my flu shot!
Another trick is that I make sure to wash my hands… often!
Today I worked in the shop with three elves that had the sniffles!  We even worked on the same chess set.
When it was time for a lunch break, I washed my hands with nice hot water.  I sang "Jingle Bells" as I scrubbed.  This helped me to make sure I scrubbed my hands long enough.
I also make sure I drink my orange juice.  Orange juice is full of something called Vitamin C.  Do you know what Vitamin C is?  Well, it is something that helps your body stay healthy.
If I do get sick, I use these same tricks.  I also try to go to bed early so that I can get lots of sleep.
If I get sick, chicken noodle soup and hot tea also help me to feel better.
Is Santa sick?
I guess if I do get sick I could always let Clumsy the Elf drive the sleigh this year.  I know he has wanted to try it for some time now.  He calls it "the Cold Clause".  HHHOL!  (That means "Ho!  Ho!  Ho!  Out Loud!")
But I don't think I will be sick this year.  Besides, I go to see the Elf Doctor in just a few days!
Merry Christmas!
Santa Claus
P.S.  What do you do to keep from getting sick?  Do you think I should let Clumsy the Elf drive the sleigh if I get sick?  You can click here to tell me or, scroll down to see what other people have written!
P.P.S.  My name really is Santa Claus, not Santa Clause!  That was just a silly joke in a movie!  HHHOL!
A right jolly old elf, in spite of myself. I love Christmas, children, the North Pole, Mrs. Claus, elves, reindeer, snowmen & the list goes on!
My title is CEO: Christmas Elf Online.
Merry Christmas!