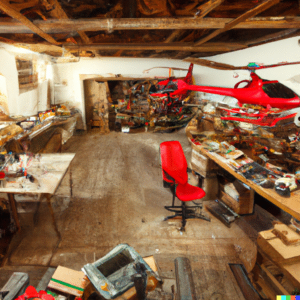 Today Clumsy the Elf had the best job in the North Pole.  He was the toy tester!
As you know, the elves make great toys.
The toys work very well – well most of the time they do!
Clumsy started by testing remote control helicopters.   One he tested seemed to have a mind of its own.  Clumsy steered it left.  It soared up.   He steered down.  It swooped to the right.   Uh-oh!   It flew right out the workshop window!
Clumsy raced after it.   He chased the runaway toy as it went around the yard.  He jumped up and tried to grab it.   But he missed and plopped belly-first into the snow.   The toy flew away from him again and again.
Clumsy got an idea.  He remembered there was a butterfly net in the shed!  So he grabbed it and started swinging.
He collected 14 drummers drumming, 2 turtle doves, 6 candy canes and a string of Christmas lights in his net.  But no helicopter!
Blitzen stopped to watch.   Clumsy swung again and the net got tangled in the reindeer's antlers.  Oops!
A Toy Tester Tragedy!
Clumsy got his net free just as the toy flew straight into MY house.   He chased after it and kept swinging!  One swing knocked over our Christmas tree.   Then another scooped up the sugar cookies Mrs. Claus was cooling by the window.  She was NOT happy!
Clumsy could not stop to explain.   He had to follow the helicopter back outside.
It finally slowed down by the barn.  Clumsy held his breath.  He swung his net.  Hooray!  He caught that crazy helicopter!  What a relief!
Merry Christmas!
Santa Claus
P.S.  Between Peanut and toy helicopters, I think Clumsy has had a rough week.  Have you ever had a rough week?  Have you ever had to chase something?  You can click here to tell me about it or, scroll down to see what other people have written!
A right jolly old elf, in spite of myself. I love Christmas, children, the North Pole, Mrs. Claus, elves, reindeer, snowmen & the list goes on!
My title is CEO: Christmas Elf Online.
Merry Christmas!