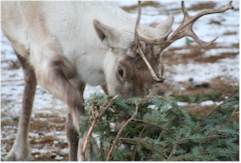 There are lots of fun things to watch at the North Pole.  But today was a BIG day.  It was Reindeer Games day!  What a jolly time we all had.  HHHOL!
The reindeer were all in tip-top shape.
Rudolph pushed a VERY BIG log.  He got a new Reindeer World Record. I told you his name would go down in history!  HHHOL!
Dasher dashed faster than ever!  And Prancer pulled ALL of the elves on her sled – just for fun!
Oh my, the reindeer played so many games!
The last game was very exciting.  It was a flying game.  The reindeer had to fly around a special course.  They had to zig-zag around trees.  Then they had to fly low.  Then they had to fly high.  And finally they had to land on a special target.
Vixen was the last to go.  She really wanted to do well.  She did not want to be Clumsy the Reindeer again!  Vixen got past the trees.  All the elves cheered.  Vixen flew low.  Vixen flew high.  She got ready to land on the target.  "You can do it!" said the other reindeer.  Do you think she did?
Vixen landed right on the target.  She was happy not to be Clumsy the Reindeer this time!  "Hooray for Vixen!" said everyone.
Reindeer Games Prize
Then the fun really started.  It was party time!  Mrs Claus had made a special cake for all the reindeer.  Can you guess what kind it was?
It was a carrot cake!  (With a red cherry nose on top!)
Merry Christmas!
Santa Claus
P.S.   What is your favourite kind of cake?  What other games do you think the reindeer play at the reindeer games?  You can click here to tell me or, scroll down to see what other people have written!
A right jolly old elf, in spite of myself. I love Christmas, children, the North Pole, Mrs. Claus, elves, reindeer, snowmen & the list goes on!
My title is CEO: Christmas Elf Online.
Merry Christmas!