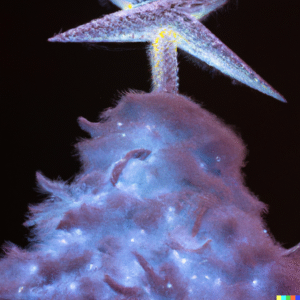 The elves have been busy making a special Christmas tree today.
Last year Mrs Claus made them a special star out of sparkles, feathers and lights.  The elves have wanted to put it on top of a Christmas tree for a long time.
Would you like to hear the funny story of what happened next?  Then keep reading my friend!
The elves decided to make a special outdoor tree for it out of snow.   It started out quite small.   But, it soon got bigger and BIGGER!  It got so big that they needed help to decorate it.
The snow Christmas tree started out the size of a snowball.  All of the elves kept adding more snow.  Soon it was the size of an elf.  Then it was the size of a reindeer.   In the end, it was as high as the toy workshop roof!  The elves had to stand on each other's shoulders to put the last snow branches on.  They looked like they were doing a circus trick!
It was so tall that it all got a bit too wobbly.   Then, with a great big "FLUMP!", the elves tumbled down to the ground.
Nobody was hurt but they were sad.   "How will we get the star on to the top of the tree?" they said.
Comet To The Rescue!
The reindeer were doing some flying practice nearby.   "We could help," they said.  "I can fly the star up to the top of the tree," said Comet.
"Hooray for Comet!" cheered the elves.
Comet put the feather star on the end of his nose.  Up and up and up he flew with the star.  The feathers fluttered.  The lights sparkled.  The sparkles twinkled.   But the feathers tickled his nose!
"A-CHOO!" Comet closed his eyes when he sneezed.  Can you guess what happened next?
He landed on the top of the tree!  He was covered in twinkling sparkles and sparkling lights with the feather star still on the end of his nose!
"Look!" said the elves. "We have a Reindeer Star on the top of our tree"!
Twinkle, Twinkle Little… Comet! HHHOL!
And everyone laughed. And Comet laughed the loudest!
Merry Christmas!
Santa Claus
P.S. What do you put on the top of your Christmas tree? Do you use a reindeer to get it on top of the tree? You can click here to tell me about it or, scroll down to see what other people have written!
A right jolly old elf, in spite of myself. I love Christmas, children, the North Pole, Mrs. Claus, elves, reindeer, snowmen & the list goes on!
My title is CEO: Christmas Elf Online.
Merry Christmas!