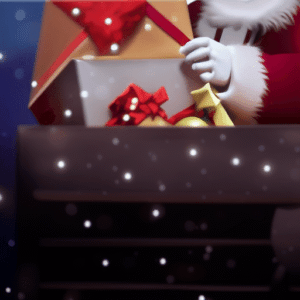 Many people ask "Why does Santa Claus come down the chimney?"  There's even a famous song that says "Santa hurry down my chimney tonight"!
Well, the main reason I use the chimney is that it is faster!   After all, the reindeer and sleigh are on the roof anyway.
Although, a long time ago, I tried a different way!  It's a very, VERY silly story.
Yes, it was a very, very long time ago.  The elves were drinking hot cocoa with those fancy imported marshmallows.  They wanted to come up with a better way for me to deliver presents.  They were trying to think of something that everyone has in their home.
Well, Clumsy the Elf had to go to the washroom because of all the hot cocoa.  He was in there a long time.   Everyone heard lots of noises.  There was lots of flushing and gurgling.
When he came out he had a big grin on his face.  He said, "I have the perfect way for Santa to get into every home!"  Can you guess what it was?
Clumsy told the elves his idea.   Faster than reindeer fly, the elves made me a special red Santa wet-suit, hat, snorkel, flippers and swimming goggles.  Yes, they wanted Santa to pop into houses through the potty!
When they told me I thought it was the craziest idea I had ever heard!  Somehow, the elves convinced me.  After all, everyone has a toilet, they said.
Well, it was one of the coldest Christmases ever!  But, I was ready to try popping into houses thru the potty.
So Should Santa Claus Come Down The Chimney?
OK.   I was ready for my first house.  But when I popped out of the potty there was Mamma in her 'kerchief and Dad in his cap, just settling in for a long winter's nap!
They had never seen Santa wearing a red Santa wet-suit, flippers on his feet, snorkel and goggles before.  I was quite a sight!
They screamed.
I screamed.
They screamed some more.
They ran.
I tried to run.  But, it is hard to run with flippers on your feet!  So, I fell.
"That's it", I said.  "No more popping into the potty for this poor Santa!".
And that's why this Santa Claus comes down the chimney!
Merry Christmas!
Santa Claus
P.S.   Do you think that was the silliest idea ever?  How would you like me to deliver presents at your home?  (You can leave a message for me.   Or, scroll down to see what others have written!)
A right jolly old elf, in spite of myself. I love Christmas, children, the North Pole, Mrs. Claus, elves, reindeer, snowmen & the list goes on!
My title is CEO: Christmas Elf Online.
Merry Christmas!