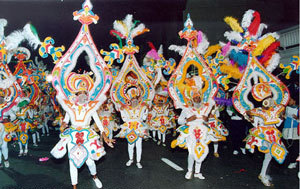 Every weekend before Christmas a different group of elves puts on a big parade.  It is a lot of fun.  After all, everyone at the North Pole loves a parade!
Tonight, the elves from different countries put on their big parade.  It is one of the happiest of all the parades.
Every year we have different countries in the parade (the elves have to take turns after all!).  Would you like to hear more about the parade?
Of course, there has to be something along the parade route so everyone knows where to stand.  So, the elves put up strings with little flags from all the countries.
This year the elves from Australia were first.  Those silly elves wore bathing suits.   They pretended to be at a snow-white beach.  (OK, it actually was a snow-white beach — because it WAS snow!  🙂  ).  Clumsy the Elf even pretended to go surfing.  You can imagine how good he was at it!   He did some pretty crazy wipe-outs right into the snow!
It is too cold here for the six white boomers (kangaroos) I use to pull my sleigh in Australia.  So the elves dressed up like them.  They even had the baby elves in their pouches!  Finally, there was a float with elves doing "Carols by Candlelight".
Then came the girl elves from Sweden.  They looked very pretty.  They were dressed all in white and they wore crowns of candles.  It is something they do for St. Lucia Day too.
The elves from Norway made lutefisk.   Then they ran around trying to find someone to eat it!  Everybody laughed!
The Caribbean elves do a Junkanoo carnival for us.  Can you see them in the photo?  They have lively music.  They have very fancy floats.  The dancers wear really fancy costumes too!  They get everyone up and dancing.   I always get up and dance too.   Yes, even old Santa Claus can "shake his booty"!  Ho! Ho! Ho!
Isn't it fun what people do at Christmas around the world?  They sure do many different things!   Would you like to see more of the world at Christmas?  Then go to my "Christmas around the World" webcam page to see more!
Merry Christmas!
Santa Claus
P.S.  What things do you like to do at Christmas?   Would it be fun to see all the different things people do at Christmas?  (You can leave a message for me here. Or, scroll down to see what others have written!)