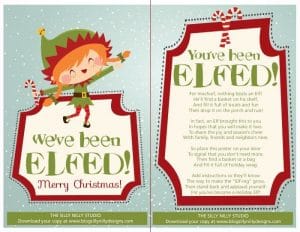 You've been elfed!  The elves started doing something fun at the North Pole.   They call it "X.M.A.S.".  "X.M.A.S." is not the same as "Xmas".  That is something else. 😊  The fun thing the elves do is all about the Christmas Spirit.  It is about the joy of giving.
Would you like to learn about the elves' game?
The elves play a Christmas game they call "X.M.A.S.".  The elves say "X.M.A.S." is short for "eXchange Merriment And Spirit".  Such silly elves!  Other people call it "you've been elfed" or "you've been jingled".
Here is how they play "X.M.A.S.".  One of the elves will make up a basket.  It will have all kinds of yummy things in it.  It might have candy canes.  The elves might put some Christmas crackers.  It might have cocoa.  Why, it might even have those fancy imported marshmallows!
The elves have lots of fun making the basket.  They put a lot of thought and love into each one.
You've been elfed!
Then the elf will put a fancy bow on the basket.  When no one is looking she will sneak to the elf house next door.  She will put the basket down at the door.  Then, she will ring the doorbell fast and hide!  After that, the elf that lives there will open the door.  And, there will be a basket full of yummy treats for them!
The elf that gets the basket then makes a new basket of treats for another elf!
If you get a basket you put a special message in your window.  By the time the elves are done every single home has a special message in its window.  What a great sight to see!  It reminds me of how great the spirit of giving really is.
Clumsy the Elf makes the best baskets.  First, he always thinks of the best things!  Then he tries to think of something new and fun every year.  Of course, I will never forget the year he left me a basket of underwear by mistake!  Mrs. Claus thought it was so funny! 🤣
Merry Christmas!
Santa Claus
P.S. What things would you put in a Christmas basket to surprise your friends?  Would it be fun to find out you've been elfed? You can leave a message for me. Or, scroll down to see what others have written!
A right jolly old elf, in spite of myself. I love Christmas, children, the North Pole, Mrs. Claus, elves, reindeer, snowmen & the list goes on!
My title is CEO: Christmas Elf Online.
Merry Christmas!