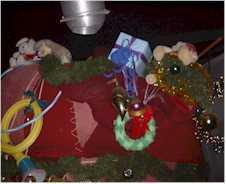 Christmas is so close.  I can almost taste the cookies!  Ho!  Ho!  Ho!
We are all ready for the big night.
There are just a few things to do.
Everyone else is sleeping.
So I thought I would share
My silly poem with you…
The sleigh is all packed,
The reindeer in bed,
Dreaming of pulling,
Santa's red sled.
The elves have been busy,
With paper and bows,
Ribbons and packages,
And polishing a nose!
Do you know which one?
It's famous.  It glows!
And I have been busy,
Checking out my new sleigh,
Making sure it's perfect,
Making sure it's okay.
Cuz Santa is coming,
I'm but one sleep away!
Merry Christmas!
Santa Claus
P.S. Do you have any special messages for me on my big trip?  (You can leave a message for me.  Or, scroll down to see what others have written!)