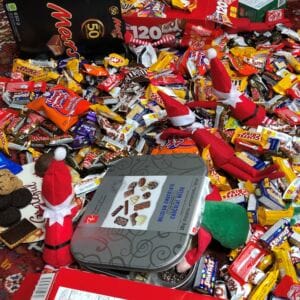 Can my elves come early?
That is a question many of my young friends ask me!  And I can see why.  Elves are a lot fun to have around.  And I should know — I've had them around me for hundreds of years now!  Those elves are always doing something silly or cheeky.  Ho, Ho, Ho!
But, there is a very good reason you may not want your Christmas elf to come too soon before Christmas.  Would you like to find out that reason?  Well, keep reading!
I'm sure you know that elves' four main food groups are candy, candy canes, candy corn and syrup.
And that is where the problem is!
You see, if I let them, those cheeky elves would live at your home all year round!  And I might think that was a good idea.  After all, they are very good at seeing who is being naughty or nice!  And they don't even have to peek in windows or hide when they are checking up on you. 😉
But those little elfs have another reason they would like to come early to your home… especially right after Halloween!
Can you guess what you might have lots of in your home right after Halloween?  Can you guess what you might have plenty of right after Halloween that Santa's little helpers might REALLY like?
What Do Elves Really Like?
MOULDY PICKLES!
Ho, Ho, Ho!
I'm joking,  Elves really like…
CANDY!
Some children think it's their parents that sneak little snacks from their Halloween goodie piles.  But that's just silly!  That is like saying that parents fly around in sleighs and put presents under the Christmas tree instead of me!  Ho, Ho, Ho!
It is the elves that are sneaking little snacks from your goodie pile!
Sometimes when they are checking in on you they will snitch a small candy bar or sweet treat when you are not looking.  If you have lots of sweet treats, they will tell all their elf friends to come too!  And that is when they are not even staying in your home!  Could you imagine how much of your Halloween and other goodies they would pinch if they were staying in your home day and night!
I get a tummy-ache just thinking about how much of your candy they would eat!
And now you know another one of my secrets!  That is why it is not a good idea for elves to come to your home too early before Christmas!
Merry Christmas!
Santa 🎅
P.S.  Do you think it is a good idea for the elves to eat all your Halloween candy or other treats you have in your home?  You can leave a message for me to tell me.  Or, scroll down to see what others have written!
And now you can chat with me too to talk about the elves!
A right jolly old elf, in spite of myself. I love Christmas, children, the North Pole, Mrs. Claus, elves, reindeer, snowmen & the list goes on!
My title is CEO: Christmas Elf Online.
Merry Christmas!