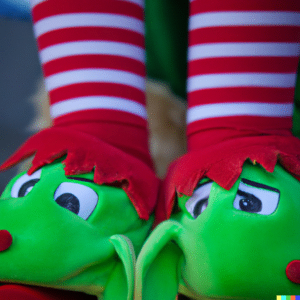 Yesterday there was a big snowstorm at the North Pole.  The elves worked so hard all year to get the gifts ready.
Now we are all stuck inside.
So Mrs. Claus decided we should have some fun. PJ Party fun!
Would you like to hear about our PJ Party?  Then keep reading!
Mrs. Claus decided to host a pajama party!  The elves loved the idea!
Right before dinner, the elves rushed to their rooms.   They put on their cosiest flannel pajamas.  Some had patterns of penguins and cupcakes.  Others had the feet built right in.  Some even had bum flaps!
Mouse the Littlest Elf brought the stuffy she likes the most: her giraffe, Jeffrey!
Clumsy the Elf tried to wear his new bunny slippers too.  He kept tripping over the floppy ears!  That is when he decided he had better take them off.   He would slip them back on when he sat down.
Mrs. Claus made us blueberry pancakes for dinner.  Yummy!  We love breakfast for dinner!
After we ate, I built a nice, warm fire.  Then we curled up in our sleeping bags.  We watched some Christmas movies we really like.  We snacked on popcorn and candy canes, too.
One by one, the elves fell asleep.  Mrs. Claus and I made sure each elf was comfy and warm.  We whispered "Sweet Dreams" to our little friends.  Then we settled into bed for a long winter's nap.
Merry Christmas!
Santa Claus
P.S.  Have you ever had a pajama party or a sleepover?  You can click here to tell me or scroll down to see what other people have written!
A right jolly old elf, in spite of myself. I love Christmas, children, the North Pole, Mrs. Claus, elves, reindeer, snowmen & the list goes on!
My title is CEO: Christmas Elf Online.
Merry Christmas!