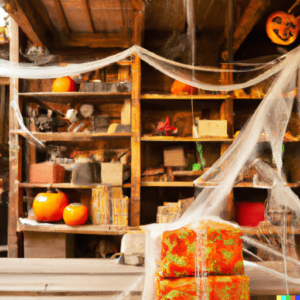 Halloween is lots of fun.
Why, its almost as much fun as Christmas!  And it also means Christmas is coming soon!
But even when you are having fun you have to be careful.
After all, at Halloween, you have to watch out for low-flying brooms (instead of reindeer! Ho, Ho, Ho!). Sadly, there are naughty people.
Here are some great Halloween safety tips:
Be safe!  Be seen!  Try to wear light-colored costumes instead of dark ones.
Be safe!  Be seen!  Put reflective tape on your costume, bike, skateboard, or broom too!
Be safe!  Be seen!  Bring a glow-stick or, better yet, LOTS of glow-sticks! Ho! Ho! Ho! I always use a shiny red nose to help me see at night, but you could always use a flashlight instead!
Be safe!  Be able to see!  Use face paint rather than masks or things that will cover the eyes.  Its easier to see witches that way!
Be safe!  Try to wear a flame resistant costume (check with a grown-up!).
Be safe!  Go Trick-or-Treating with four or five other kids (and go with a grown-up!)
Be safe!  Give your grown-up lots of treats to keep them happy!
Be safe!  Keep your costume away from open fires and candles.
Be safe!  Make sure your costumes is short enough so you do not trip.
Be safe!  Walk, slither, and sneak on sidewalks – not in the street where cars are.
More Halloween Safety Tips From Santa!
Be safe!  Look both ways before crossing the street to check for cars, trucks, and low-flying brooms.
Be safe!  Only cross the street at intersections or crosswalks (and check both ways for cars and witches again!).
Be safe!  Go Trick-or-Treating along one side of the street first and then do the other.  That way you don't have to cross the street so much (and watch out for those pesky witches!)
Be safe!  Only visit homes that have the porch light on (they always have the best treats anyway! 🙂
Be safe!  Only accept treats at the door.  Never go inside someone's apartment, house or car.
Be safe!  Get back home on time so no one worries about you (and so you have more time to eat your goodies!)
Eat safe!  Let a grown-up check your goodies before you eat any.
Eat safe!  Do not eat candy if the package is already open.
Eat safe!  Keep small candies away from really little kids so they don't choke.
Happy Halloween!
Santa Claus
P.S.  What things do you do to be safe at Halloween?    (Scroll down to leave a message for Santa or to see what others have written!)
A right jolly old elf, in spite of myself. I love Christmas, children, the North Pole, Mrs. Claus, elves, reindeer, snowmen & the list goes on!
My title is CEO: Christmas Elf Online.
Merry Christmas!