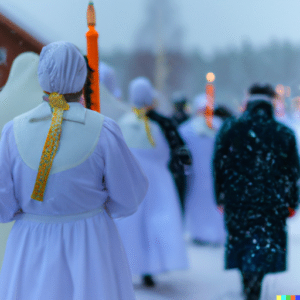 I was busy this morning. I visited many places as I travel around the World!
The places I visited do something special today.  It is called Saint Lucia's Day.  Some people call it Saint Lucy's Day.  It is a day about Light winning over Darkness.
And that is what Christmas is about in many ways too!
Today the oldest girl in the house wakes up early.  She puts on a special white dress and red sash.  She wears a crown of seven candles.
Then she wakes up her parents.  She brings them a special meal of coffee, saffron bread and ginger biscuits. Yummy!
School closes early today too!  This gives time for everyone to get ready for the big procession in town.  A procession is a special kind of parade.
The boys dress up as Star Boys.  They wear white pajama-like outfits.  They also sing special songs on this day.
St. Lucia Day Parades Bonfires
At schools, they have special parades today.  The girls dress as Lucia.  The boys dress as Star Boys. There will be more parades tonight.
There will also be big, safe fires called bonfires. In ancient times, these fires were set to scare off evil spirits. The fires were also hoped to make the days start to get longer again.
And, there will be lots of friends and lots of singing.  It is a lot fun!
Saint Lucia Day is the start of the Christmas season in these countries.  It brings hope and light to everyone during the darkest time of the year.
I like to think the elves and I also bring hope and light to people at this time of year.  Maybe that is why we like St. Lucy's Day so much!  (That and the gingerbread 😉)
Merry Christmas!
Santa Claus
P.S. What fun Christmassy things do you do at school or with your friends?  (You can leave a message for me. Or, scroll down to see what others have written!)
A right jolly old elf, in spite of myself. I love Christmas, children, the North Pole, Mrs. Claus, elves, reindeer, snowmen & the list goes on!
My title is CEO: Christmas Elf Online.
Merry Christmas!