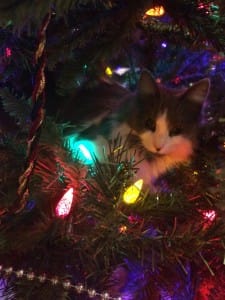 Did you hear about the Christmas Kitties?
Mrs. Claus, the elves and I have all been trying to come up with names for them.
There have been so many wonderful names, we just can't choose!  So here's what we've decided to do!
A Christmas Kitties Poem!
Thank you so much
for helping with names
For cat two and cat one
who love playing games
They've been in my tree
batting the balls
then chasing their tails
down thru the halls
They've eaten my hat
What can I say
There's no more white ball
But I liked it that way!
They decided to taste
Mrs. Claus' sweet treat
But a cupcake with fur
Isn't so sweet
Cat one is a girl
with pink icing on toe
She's as bad as her brother
Cat two don't you know
But now it is time
It is time I declare
To name those 2 kitties
Little rotters with hair!
So here it is
What we've decided to do
To let you all vote
for cat one and cat two
These are the names
We randomly drew
of kitty cat names
for cat one and cat two
There's Mittens and Snowflake
and Scamper and Scurry
All great names for
cats crazy and furry
There's Tinsel and Winter.
Mistletoe too.
Coco and Trouble
For kitties that "mew"
Merry and Sassy
Rocky and Holly
Sparkles and Twinkles
Burrito and Jolly
So these are the names
That we randomly drew
Will you vote for two please?
For cat one and cat two?
(Voting is now closed.  Read my blog to find out their names!)
Santa Claus
P.S.  What do you think of the Christmas kitty names? Do you like voting for the names of those crazy Christmas kitties?  You can click here to tell me or, scroll down to see what other people say!
A right jolly old elf, in spite of myself. I love Christmas, children, the North Pole, Mrs. Claus, elves, reindeer, snowmen & the list goes on!
My title is CEO: Christmas Elf Online.
Merry Christmas!