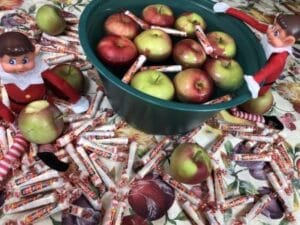 This is a very exciting time at the North Pole!
There are less than 60 sleeps until Christmas.
And, there are less than 6 sleeps to Halloween!
Some people ask me, "Santa Claus, everyone at the North Pole loves Christmas.  But what do you do at Halloween?".  Well, we love Halloween almost as much as Christmas!  After all, the elves would never miss out on a chance to have fun — especially if there is candy and games involved!
Halloween Games At The North Pole
We play lots of Halloween games.  The elves get all dressed in their Halloween costumes first.  Then the elves love to bob for apples.
It's really funny when Clumsy the Elf falls in the water!  Just his pointy little elf shoes stick out!  We even have a special elf fishing stick to get him out.  Well, ok, it's really just a big candy cane!  HHHOL!
I think Clumsy falls in on purpose.  He likes to make everyone laugh.  It just is not Halloween until Clumsy falls into the water!
The girl elves are really smart.  They pick the apples up by the stems with their teeth.  Their faces do not even get wet!  Girl elves are very dainty princesses.
The boy elves are so silly.  They try to pick the apples up by biting the apple with their teeth.  They put their whole face right into the water!  Then they move their faces trying to bite the apple.  Their little faces get so wet we have to dry them off.  Boy elves are very messy!
We used to bob for snowballs.  But the snowballs kept melting in the water!  HHHOL!
Happy Halloween!
Santa Claus
P.S.  What Halloween games do you like to play?    (Scroll down to leave a message for Santa or to see what others have written!)
A right jolly old elf, in spite of myself. I love Christmas, children, the North Pole, Mrs. Claus, elves, reindeer, snowmen & the list goes on!
My title is CEO: Christmas Elf Online.
Merry Christmas!