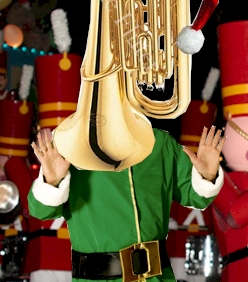 Every weekend before Christmas a different group of elves puts on a big parade.  It is a lot of fun.  After all, everyone at the North Pole loves a parade!
Tonight, the musical elves put on their big parade.  There is lots of Christmas songs and singing.  Their parade really puts everyone in the Christmas spirit!  Would you like to "hear" more about the musical elves parade?
Of course, there has to be something along the parade route.  That way everyone knows where to stand.  The musical elves put up all the words to all the Christmas songs in the parade.  Then everyone can sing along.  (Not that the elves do not already know all the words!)
The parade always starts with the All Elf Kazoo Band.  You should hear those little fellows play the kazoo!  Yes, there is only ONE kazoo but they all play it!  (It used to be called the All Elf and One Kazoo Band!  HHHOL!)
The elves in the parade sing all kinds of Christmas songs.  They stop along the parade route and start singing for everyone.  It is a bit like carolling for elves!  When they get a figgy pudding then the singing elves move on.
Of course, you cannot have North Pole Christmas music without Elfis!  All the elves scream when he starts to sing his hit Christmas songs like "Blue Elf Shoes", "Sleigh Sleigh Rider" and "Elfhouse Rock".  The air guitar elves are awesome too (they had lots of practice making Guitar Hero a few years ago 😉).
Can you guess what instruments the elves use to play "Jingle Bells" in the parade?  Can you guess who pulls the sleigh?
The Christmas Music Parade Starts A New Tradition!
I think the Christmas Music Parade has the best bands.  They are really good!  But, I must admit, I still do not know why Clumsy the Elf always wants to play a great big tuba.  He can barely even lift it up it is so big!
Many years ago, he was wobbling from one side of the parade to the other.  Then he wobbled back again!  All the other elves in the band started to do it too.  It looked really cool (until the tuba ended up on Clumsy's head)!
And that is how marching bands started doing the dance moves!  (You should see some of the other fancy moves Clumsy has come up with by accident!)
Merry Christmas!
Santa Claus
P.S.  Do you like to sing Christmas songs?  Do you think Clumsy looks silly in a tuba?  (You can leave a message here.  Or, scroll down to see what others have written!)
A right jolly old elf, in spite of myself. I love Christmas, children, the North Pole, Mrs. Claus, elves, reindeer, snowmen & the list goes on!
My title is CEO: Christmas Elf Online.
Merry Christmas!