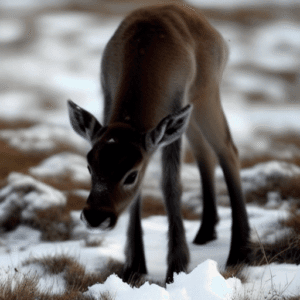 Do you remember in my blog a long time ago I told you that Rudolph and Clarice had two new little reindeer?  Well the little reindeer, Georgie Gingerbread and Blizzard, are growing up so fast I can hardly believe it!
The elves even had a surprise first birthday party for them.  It was quite a party.  Would you like to hear more about the birthday party for Santa's newest little reindeer?
Well it was going to be a big day for Blizzard (that is him in the photo as a baby) and Georgie Gingerbread on their birthday already.  They were going to play in the reindeer games for the first time!  They were quite excited, as you can imagine.
Of course, the elves and the big reindeer had a surprise party planned all the time.  So, after everyone was done at the reindeer games they went back to the reindeer barn.  As soon as Blizzard and Georgie Gingerbread walked into the barn, everyone jumped out and said "Surprise!"
Blizzard was so surprised he jumped.  He flew right up in the air!  He flew even higher than he had at the reindeer games!  HHHOL!  Georgie Gingerbread just had a little smile on her face.  I think she knew there was going to be a surprise party.  She is one smart little reindeer after all!
It's a Reindeer Birthday Party!
It was a pretty silly party.  All the elves wore silly little reindeer hats with antlers.  All the big reindeer wore elf hats!  There were lots of balloons so of course the elves were running around trying to pop the balloons with their reindeer hats.  Clumsy the Elf got the antlers in his hat stuck in Dasher's antlers.  What a sight!
Then Mrs. Claus brought in two special birthday cakes.  Its good she made two because just then, POP!, Clumsy's hat came off.  He landed right in the middle of one of the cakes!  Clumsy said it really tickled with all the reindeer eating the cake off him.
Finally we sang a song.  Do you know what song we sang?  Of course, reindeer only speak "animal" so we sang "Hippo Birdy Two Ewes!"  (It's just like "Happy Birthday to You" but for animals).  I think that's the song the reindeer like best (well, at least of the songs that aren't about Christmas!  HHHOL!)
Merry Christmas!
Santa Claus
P.S.  Do you like birthday parties?  You can tell me what you like the most about birthday parties here.  Or, scroll down to see what others have written!
A right jolly old elf, in spite of myself. I love Christmas, children, the North Pole, Mrs. Claus, elves, reindeer, snowmen & the list goes on!
My title is CEO: Christmas Elf Online.
Merry Christmas!