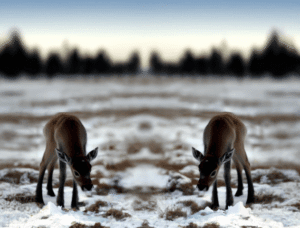 Are you ready for more news about the twin reindeer?  (You did know we were going to have new reindeer, right?)  Would you like to hear today's news? It's time to choose some little reindeer names!
Well, I should start (again!) by saying something.  The twin reindeer still have not been born! Oh, man!
But we still have exciting news!  This has to be the most exciting Christmas ever!  Are you ready?
Well, the Doctor says there will be twins.  There will be a little boy reindeer.  And, there will be a little girl reindeer.  So, Clarice said she would pick the little girl's name.  And Rudolph said he would pick the little boy's name!
Well, Clarice has a very nice name for the little girl reindeer.  But, she asked me not to tell just yet.  She wants to wait until the little reindeer is born!
But Rudolph cannot pick a name!  He said there were too many great names.  He could not pick one! And Mrs. Claus said that was "just like a man!". HHHOL!
So, Rudolph wants you to pick the name for him!  He has made a list of some names.  Now he wants you to vote!
Voting Is Over, But More Little Reindeer Names?
Note:  Voting for the new reindeer's name is over!  Rudolph and Clarice wanted to thank everyone for giving them so many wonderful names.
But, they said to keep sending them name ideas in the comments below — you know, just in case they have any more babies. 😉 They think that way they'll already have all kinds of wonderful names to choose from!  Isn't that a great idea?}
Merry Christmas!
Santa Claus
P.S. Do you think this is a fun way to pick the little boy reindeer's name?
(You can leave a message for me.  Or, scroll down to see what others have written!)
A right jolly old elf, in spite of myself. I love Christmas, children, the North Pole, Mrs. Claus, elves, reindeer, snowmen & the list goes on!
My title is CEO: Christmas Elf Online.
Merry Christmas!