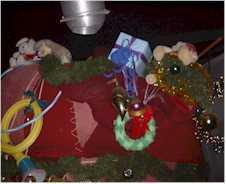 Christmas is so close.  I can almost taste the cookies! Good thing Santa's new sleigh is ready.  (Well, that's what the elves call it, anyway.)
There isn't much time left until Christmas.  So, we are we are very busy getting ready for the big night here at the North Pole.  It is a very silly and crazy time of the year here!
There are just a few things left to do.  
The elves are all sleeping.  
So I thought I would share
a silly poem with you!
Continue reading "Santa's New Sleigh Is Ready For Christmas 2019! Read the silly poem!"