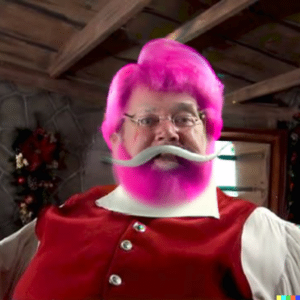 It's time for another year of crazy stories from the North Pole!  I call this one "The  Silly Story of Santa's beard".
Do you remember when I told you how much Clumsy the Elf loves to cut hair? One time I even heard him say "I'd love to try cutting Santa's beard".  Well, just a few days ago, I let him cut my beard.  I didn't plan to do it, but I'll tell you what happened.
Clumsy wanted to have a pizza party.  Elves love pizza and they love it when they get to make their own pizzas.
We had lots of toppings!  There was pepperoni, mushrooms and even candy canes.  I think the best topping on pizza is pineapple. Mrs. Claus says it is because I have a sweet tooth.
I like making pizza too.  It's fun tossing the dough up in the air and catching it.
Clumsy watched me do this and wanted to try.  The only problem was, Clumsy's dough had sauce, toppings and cheese on it already!
He tossed it in the air.  Way, waaay up in the air!  I looked up and… PLOP!  Clumsy's pizza landed right on my face!
Bright red sauce oozed down my beard and tasty toppings spilled on the floor.
My reindeer Dasher helped clean up by eating the toppings and licking the sauce off the floor.  Rudolph helped, too.  Then they both tried to lick the sauce off my beard.  Have you ever had reindeer lick you? It tickles.
But my beard was still a big mess!
Santa's beard story!
I washed it with my beard shampoo and brushed it with my beard brush. It felt soft and fluffy again, but it looked different. My snowy white beard was suddenly… orange!  HHHOL! I looked so silly.
Mrs. Claus said I could NOT have an orange beard.   "Santa's beard has to be snow white!", she said.  "The wonderful children of the world won't know who you are!"  Would you know it was me if my beard was orange?
So, I told Clumsy he could cut my beard.  He was very happy.  He thought it was a great idea.  "I'm so excited to cut Santa's beard!", he said.
And, oh boy, did he trim my beard!  So now, I have to wear a fake beard until my real one grows back.  But, I guess a fake Santa's beard is better than an orange beard! HHHOL!
Merry Christmas!
Santa Claus
P.S.  What do you think I would look like with an orange beard?  Should I have kept it or let Clumsy cut it?  You can click here to tell me or, scroll down to see what other people say!  Oh, and Clumsy wants to know what your favorite pizza topping is.
A right jolly old elf, in spite of myself. I love Christmas, children, the North Pole, Mrs. Claus, elves, reindeer, snowmen & the list goes on!
My title is CEO: Christmas Elf Online.
Merry Christmas!