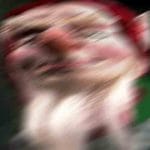 Did you ever wonder why hardly anyone ever sees one of my scout elves?
My silly little poem about scout elves might help!  🙂
Elves are fast.
Elves are cool.
They watch all
the kids at school!
Elves are fast,
And sneaky too.
Elves are good at watching you!
Elves are quick.
They are slick.
Elves tell all to Ol' Saint Nick!
Sherlock elf is the boss.
Did you brush?
Did you floss?
Give a hug?
Or make a fist?
Different one
Means a different list!
Yes, if you're Naughty,
or if you're Nice,
You're on my List
I'll check it twice!
Can you spot Santa's Scout Elves?
My elves are good
at watching you!
They like to watch
all you do.
But maybe you could spot one too?
If you listen,
If you hurry,
You might see things
that are blurry!
If you look
behind a shelf,
You might catch a tiny elf.
Looking far,
Looking near,
You might see a pointy ear.
But elves are fast.
Elves are quick.
Elves are smart.
They know the tricks!
Elves are very
Hard to see
And that is why
I say to thee…
You may try
You may be keen
But I'm telling you
Scout elves won't be seen!  🙂
Now some of my scout elves are extra sneaky.  They come right into your home before Christmas and just sit there watching you!  Of course, elves will be elves so they usually get into mischief each night.  Maybe you could share a photo of the trouble your elf got into.  I'll bet everyone would like to see that!
Merry Christmas!
Santa Claus
P.S.  Quite often my scout elves tell me they think someone might have seen them.  Have you ever seen an elf?  Do you have a photo of your scout elf doing something silly?  Scroll down to leave your message and photo for me or to see what others have written!
A right jolly old elf, in spite of myself. I love Christmas, children, the North Pole, Mrs. Claus, elves, reindeer, snowmen & the list goes on!
My title is CEO: Christmas Elf Online.
Merry Christmas!