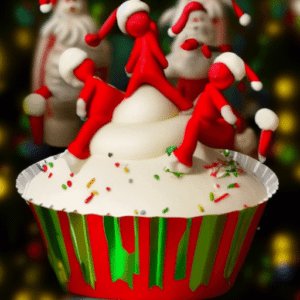 Each week, a group of elves hosts a Christmas parade. The toymaker elves held one last week. It was a fun time. There was music and dancing and crafts at the end. This week is one of the ones my tummy likes best: The Baker Elves' Parade!  I just love giant Christmas cupcakes!
Mrs. Claus does most of the baking and cooking for me. But, the baker elves help out a lot in the kitchen. They also make special treats for each of the reindeer. Their parades are so fun to watch.  I think the best part is all the yummy treats to try.
A Baker Elves' Parade is not like other parades. They shoot candy sprinkles out of large cannons. The elves go crazy for that! Each float in the parade is made completely of baked sweets. There's a gingerbread house float and a root beer float! (Those elves are so silly!)
As the floats go by, the other elves (and I, of course!) take samples of the yummy treats. Mrs. Claus helps out too. She makes huge pots of rich hot cocoa for everyone to drink. Of course she tops it with big, fancy, imported marshmallows!
Christmas cupcakes
There are giant cupcakes everywhere. There are cookies and pies on tables all over the North Pole. Big candy canes hold strings of lights. Elves play our favorite music — Christmas music! When the parade is done, everyone has a full tummy and a smile on their face!
Now the Baker Elves' Parade is done. The workshop has been cleaned up. All the yummy treats have been eaten. I think it's time for Mrs. Claus and me to get some sleep.
Tomorrow is another big day in the workshop.  I can't wait to tell you all about it! But maybe I'll finish some Christmas cupcakes first. 😉
Santa Claus
P.S. Do you think it would be fun to eat giant Christmas cupcakes?  Which elf parade would you like to see?  You can click here to tell me or, scroll down to see what other people wrote.
A right jolly old elf, in spite of myself. I love Christmas, children, the North Pole, Mrs. Claus, elves, reindeer, snowmen & the list goes on!
My title is CEO: Christmas Elf Online.
Merry Christmas!