Now those are some epic Christmas music house lights!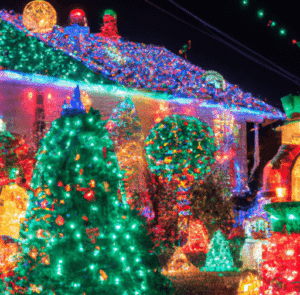 Christmas Music House Lights!
Do you like Christmas music?
And do you like Christmas lights?
Do you like Christmas songs AND Christmas lights together?
You are not alone!
The elves go bonkers when they hear Christmas music.  They laugh.  They sing.
The elves also go bonkers when they see blinking Christmas lights.  They jump up and down.  They dance.
What Makes An Elf Go Bonkers? Christmas Music House Lights!
But do you know what makes elves really go bonkers?  Houses all decorated for Christmas with music and lights!  Watch the video below!
Are you going bonkers like an elf now too?
Do you think the people who live in those house are as bonkers as elves?  They sure have a lot of Christmas spirit!  I sure hope the people that live close to them have lots of Christmas Spirit too.  Would you like to live close to a house like that?
The elves want me to make the entire North Pole look like that.  But then I tell them, it already does!  Where do you think the Northern Lights come from anyways?
Oh boy, I am really getting the Christmas Spirit now after watching that video!  Only a few more sleeps until Christmas!  I am so excited!  I think will go eat a cookie.  After all, I have to wait until all the elves around me stop going bonkers anyway.  🙂
Merry Christmas!
Santa Claus
P.S.  What do you think elves do when they go bonkers from Christmas music and lights like that?  Will you leave your Christmas lights on for me to see Christmas Eve?  Scroll down to leave your message for me or to see what others have written!
A right jolly old elf, in spite of myself. I love Christmas, children, the North Pole, Mrs. Claus, elves, reindeer, snowmen & the list goes on!
My title is CEO: Christmas Elf Online.
Merry Christmas!