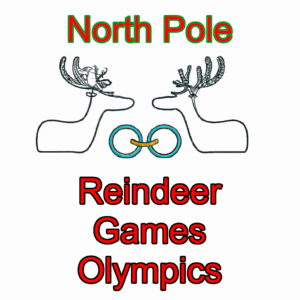 This is Santa Claus, reporting to you live from Day 7 of the Reindeer Games Olympics!
Did you know horses take part in the human Olympics?  They do a sport called dressage.  You say it "DRESS-aaaage" (it rhymes with massage).  It is part art and part competition.  It is just like ballet for horses!
My reindeer Dancer wanted to do it too.  She wanted to win a gold medal! Today was her big day. It was her chance to try dressage.
Lots of people ride horses.  Disabled people ride too.
Did you know that some people ride reindeer?  They are very lucky people.
Today, a disabled elf rode Dancer.  He was a very good rider.  Dancer was sure they could win a gold medal.
Dancer knew what she had to do.  She knew every step.  Dancer thought she knew better than his rider!
The crowd cheered them on.  The judge watched closely.  Then Dancer got nervous.
Oh no!  She forgot what to do!  But her rider did not forget.  He showed Dancer the way. Phew!
Dancer and her rider made a great team. Dancer did her very best ballet steps. Her rider made sure she knew the way. What a splendid performance.
Reindeer Games Olympics Are About More Than Medals!
Dancer's rider gave her a big hug and a carrot at the end. Dancer felt very proud. It felt good to be part of a team.
"A hug is better than a gold medal," Dancer thought.  She gave her rider a big reindeer lick … SHLURP!
Merry Christmas!
Santa Claus
P.S.    Sport is for everyone. Do you know any other sports that disabled people play, like wheelchair basketball? Do you think a hug is better than a gold medal?  You can click here to tell me about it or, scroll down to see what other people have written!
A right jolly old elf, in spite of myself. I love Christmas, children, the North Pole, Mrs. Claus, elves, reindeer, snowmen & the list goes on!
My title is CEO: Christmas Elf Online.
Merry Christmas!