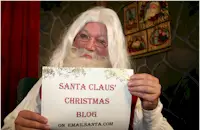 If you've been reading my blog, you know I like to sing in my sleigh, eat with the elves and dabble in poetry!  My poem today is called "How the toys are made".  I hope you enjoy it!
How
The
Toys
Are
Made
a poem by Santa Claus
Hello, hi, and how are you
The sun is bright, the sky is blue
It's getting near, I cannot wait
To see boys sled and see girls skate
Winter's close, it's long past June
Christmas time is coming soon!
Have you been nice? Have you been good?
Like every child at Christmas should?
Do not be naughty, do not act bad
That would make me really sad 🙁
We're so excited, our smiles are wide
The elves are working by my side
To make the games and gifts and toys
For all the girls and all the boys
We have been working through the year
Smiling, laughing, spreading cheer
Lot's of questions from girls and boys
How do you and the elves make toys?
How do you and the elves make the toys?
Well I will tell you and tell you speedy
I will tell you, oh yes indeedy
The gifts are made with care and love
No matter if its boot or glove
The games we make with lots of magic
For those without are sad and tragic
We make the toys with speed and skill
With lots of skill and speed until
All the toys and gifts and games
Are matched to all the children's names
Of all the kids around the world
Of all the boys and all the girls
Now time to wrap up all we made
Time for the elves to be amazed
The gifts and I now to the sleigh
But to the sleigh, what is the way?
Sometimes I walk or hop or run
Or use my skateboard just for fun
But I'll tell you what I like the most-er
To ride there on my roller coaster
I stand atop. I surf the tracks
To get the presents to my sack
The elves all cheer as I whizz by
As I dip down low and race up high
I'm so excited having fun
I place them neatly one by one
Into my great big Santa sack
And ride the roller coaster back
I think I'm done, I think that's all
Just one more question, very small
If you could choose from anything
What gift would you have me bring
And place it underneath your tree
What present would you like from me?
Did you like my poem?
What did you think of my poem? I hope you learned some of my secrets. 😉
Santa Claus
P.S. What present would you like from me?  You can tell me by clicking right here.  Do you like poetry?  Did you like my poem "How the toys are made"?  You can click here to tell me or, scroll down to see if others liked my poem "How the toys are made" too!
A right jolly old elf, in spite of myself. I love Christmas, children, the North Pole, Mrs. Claus, elves, reindeer, snowmen & the list goes on!
My title is CEO: Christmas Elf Online.
Merry Christmas!