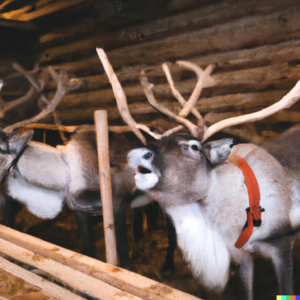 Everyone here really enjoyed the Christmas joke contest between the elves and reindeer.  It really got the reindeer into a silly mood before Christmas!  Do you want to know how silly?
Well, the reindeer got so silly, they started making up Christmas songs.  But not just any Christmas songs.  They changed the words to Christmas songs everyone already knows.  They changed the words of those Christmas songs into "animal".
Here are a few lines from some of the songs the reindeer were singing.  Can you guess what these four songs really are?  Its kind of a puzzle and a brain teaser too!
Song #1
Baa-Baa got run over by a reindeer
Squawking home from our house cat mouse eve
Song #2
Bee fish ewe a furry cat mouse
Bee fish ewe a furry cat mouse
And a puppy ewe deer
Song #3
O cat mouse flea
O cat mouse flea
Fly leaves hamster crow changing
Song #4
Iguana hippopotamus fur cat mouse
Own-flea a hippopotamus will mew
And  now… More Silly Christmas Songs!
Song #5
Santa paws is comin' to town
Santa paws is comin' to town

Song #6
Duck the halls with boughs of jolly
Fa la la la la, la la la la

Song #7
I'll have a blue Cat Mouse without ewe
I'll be so blue just thinking about ewe
Decorations of red on our green Cat Mouse tree
Won't be the same deer, if ewe are not hare with meow
Song #8
Then one froggy Cat Mouse Eve
Santa came to say…
I think I have a North Pole brain freeze after listening to those silly songs! HHHOL!
Merry Christmas!
Santa Claus
P.S.  Do you like silly Christmas songs?  Did you like the reindeer's silly "animal" Christmas songs?  Leave me a message if you know what the songs really are or if you can think of other silly songs. Or, scroll down to see what others have written!
A right jolly old elf, in spite of myself. I love Christmas, children, the North Pole, Mrs. Claus, elves, reindeer, snowmen & the list goes on!
My title is CEO: Christmas Elf Online.
Merry Christmas!