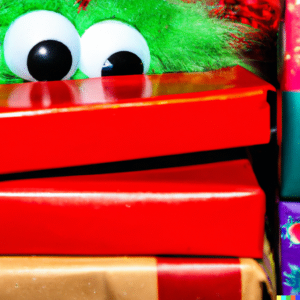 With your great suggestions, I decided to try Scunner on another job.
I wanted him to double check the naughty and nice list.  This is a VERY important job!
I made sure that he was in a room that had none of the things he was allergic to inside.  Then I showed him the printer.  And then I showed him the green pen for nice and the red pen for naughty.
'Scunner, I have to make sure that all the nice children get a visit.  You have to be accurate.  A lot of children are counting on you!'
'Aye Santa, it'll be no bother at all.'
He put on his glasses and set to work.  He started printing out pages and matching them to my book.  I saw that he was being very careful.  All the Nice children got a great big green checkmark.
Scunner was doing a great job.  So, I went to the workshop.
Jumping Jingle Bells!  The elves in the workshop were in a funny mood.
Kissy the Elf told me that they had all stayed up late.  They watched a scary film about an Egyptian Mummy.  Now they were all tired and they were all a bit scared.
I was a bit upset.  The elves need their sleep so they can do their best work.
The elves all said, "Sorry, Santa".
I can never stay angry at my elves for too long so I told them it was okay.  I also asked them not to do it again.
There's A Monster In Santa's Workshop!
Everything was fine until after lunch.  I was sitting in my office and I heard Kissy scream.  My heart jumped and I ran from my chair.  Kissy and Clumsy looked very frightened.
'Santa, there is an Egyptian Mummy in the workshop!'  Kissy said.  "It's a monster in Santa's Workshop!"
'It was moaning and walking about like this.'  Clumsy started to demonstrate.  He stretched his arms and started moaning as he started walking.  Silly Clumsy, he didn't look where he was going and fell right into a present.
Before I could laugh, I heard a noise.  I saw a small figure.  It was wrapped in white and wandering about outside.  I am going to go outside right now.  I will tell you what it is tomorrow.
Fingers crossed.
Merry Christmas!
Santa Claus
P.S.  What do you think it is?  Have you ever stayed up late to watch a scary film?  You can click here to tell me about it or, scroll down to see what other people have written!
A right jolly old elf, in spite of myself. I love Christmas, children, the North Pole, Mrs. Claus, elves, reindeer, snowmen & the list goes on!
My title is CEO: Christmas Elf Online.
Merry Christmas!