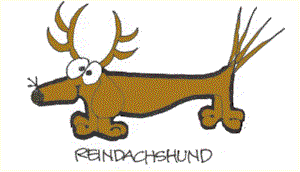 Libraries are fun places to read and do other things.  The North Pole Library is no exception.  It has many books about me and Christmas.  Miss Becca is the Head Elf Librarian.

Today Clumsy the Elf found a little brown puppy under a Christmas tree.  The puppy was very cold.
Clumsy was going to the library.  So, he took the puppy with him.  He made a little bed for it there.  He told the puppy to be good while he helped Miss Becca.
Then Clumsy went to push a cart full of books.  He reached up to put a book away, but…  ZOOM! …a bundle of brown fur ran by!
The puppy had gotten out of his bed!  Clumsy ran after the puppy.
Up and down the rows and between the books, Clumsy chased the little brown puppy.
Books were flying everywhere!  Elves were jumping in the air!
The puppy ran under the cart of books.  Clumsy dove after him.  But Clumsy knocked the cart over.  Books flew everywhere!
Miss Becca was in the story-telling corner.  The puppy ran in and jumped from pillow to pillow!  Boing!  Boing!  Clumsy ran in right behind him. Boing!  Boing!
Miss Becca screamed!  The puppy ran right between her feet.  Miss Becca fell right into the soft pillows.
But then the puppy stopped.  Its tail started to wag.
Great Big Wet Kisses
It ran back to Miss Becca.  Then it started licking her face!  Great big wet puppy dog kisses!
That is when Miss Becca decided the puppy should come and live with her.  She named him Peanut.
Do you know the first thing Miss Becca taught Peanut?
No running in the library!
Merry Christmas!
Santa Claus
P.S.  Do you have a pet?  I would love to hear about it.  You can click here to tell me about it or, scroll down to see what other people have written!
A right jolly old elf, in spite of myself. I love Christmas, children, the North Pole, Mrs. Claus, elves, reindeer, snowmen & the list goes on!
My title is CEO: Christmas Elf Online.
Merry Christmas!