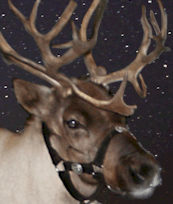 We got a new reindeer at the North Pole today.  Mrs Claus told me recently that it would be an idea to have a few more reindeer in case any of the others got ill.  She is a very wise lady and I had to agree.
However, when the newest reindeer arrived I realised that he might not be up for the job.  He is a beautiful reindeer but, well, he isn't very good at flying!
When I took him for a test flight he almost crashed into the house. Then he almost landed in some trees!
I was really disappointed. I didn't know what to do.  So I went in for a hot chocolate and some of those fancy imported marshmallows. I needed to think.
My Grumpy Elf and the new reindeer
It was then that I heard the sound of laughter from the yard.  I looked out to see Scunner, the Grumpy Elf, throwing snowballs at the newest reindeer.
I was so upset.  Bullying is not allowed at the North Pole! I quickly opened the window.
"Scunner what are you doing?"  I shouted.
Scunner turned so quickly, his big feet got tangled in his long lab coat and he fell onto his bottom.
"Santa, I was just playing." He stammered.
"You are bullying the poor animal." I was getting quite upset.
"No, I'm not," Scunner began to sob. "He's my new pal.  We were playing."
And then the reindeer surprised me.  He gave Scunner's face a great big, wet lick!  Then the reindeer gently pulled Scunner to his feet.
"I've called him Tumshie," Scunner said and the reindeer bleated in agreement.
I felt really bad.  Here I had jumped to a conclusion and that was not a good thing to do.
I don't know what we'll do with Tumshie yet, but it's very nice to see new friendships start.
Santa Claus
P.S. Have you ever judged someone wrongly?  Have you ever got into trouble for something you didn't do? You can click here to tell me or, scroll down to see what other people have written!
A right jolly old elf, in spite of myself. I love Christmas, children, the North Pole, Mrs. Claus, elves, reindeer, snowmen & the list goes on!
My title is CEO: Christmas Elf Online.
Merry Christmas!