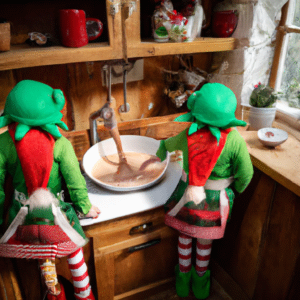 It is always good to say "Thank You!"
If somebody does something nice for you, you say "thank you!"  If something good happens to you, I know you say 'thank you' then too.
A long time ago, some grown-ups made a special day just for saying "THANK YOU!"
We have many things to be thankful for at the North Pole.  Mrs. Claus is so happy to have helpers in her kitchen.  I am so happy I have my elves and reindeer.  That is why we like to have a special day too.  A special day to be thankful for all we have!
Our special day starts with the elves playing games outside.  It is fun to kick a ball in the snow!  Sometimes the ball even goes in the snow goal!
Clumsy the Elf tried to kick the ball but missed and fell!  "Ouch", he said, rubbing his behind.  Did that stop him?  No!  He got right back up and brushed off the snow.  His next kick was a goal!  Everyone laughed.  Clumsy said, "Well, at least I did not end up with a turkey on my head this year!"  Everyone laughed even more.
Thank You Day Dinner
Mrs. Claus and her helpers got up early to make a yummy meal.  Time to stuff the turkey!  Kissy the Elf stopped by to help.  She made gingerbread cookie stuffing.  The elves love gingerbread so much that they ate all of the stuffing!
After, Clumsy the Elf helped set the table.  He did a good job but he forgot to set a place for me!  It was OK.  I sat with Mrs. Claus!  Wow, we were hungry!
We ate, got tired and took a nap.  Eating a big dinner can make you sleepy!
Do you know what is so nice about this day?  We all get to play and work together and then eat good food with people we love!
And we know that Christmas is coming soon!
Merry Christmas!
Santa Claus
P.S.  What do you like to do on a Thank You day?!  You can click here to tell me or, scroll down to see what others' have written!
A right jolly old elf, in spite of myself. I love Christmas, children, the North Pole, Mrs. Claus, elves, reindeer, snowmen & the list goes on!
My title is CEO: Christmas Elf Online.
Merry Christmas!