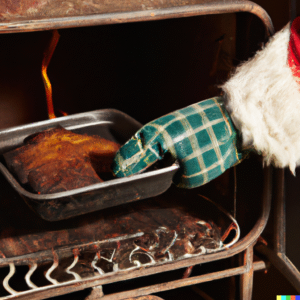 Sometimes I like to do something to make Mrs. Claus feel special, to thank her for all she does.
I had the perfect chance to surprise her the other day when she was teaching a gingerbread cookie class at the shop.  She would be out of the house for a few hours, so I decided to spend that time making a surprise dinner!
At first things went well.  I mixed up a tasty-smelling meatloaf and stuck it in the oven.  Things were going so well that I thought I could start mixing some cookie dough while the meatloaf cooked.  I mixed a few things together, but the dough was just a sticky mess that stuck to my hands.
Santa's Surprise Supper or is it a Supper Surprise?
I had been so distracted with my cookies that I had forgotten the meatloaf until Clumsy the Elf came rushing in.  "Something is burning!  Something is burning!"  I looked around and sure enough, Clumsy was right!  He had seen smoke coming from my window and had rushed in to see what was happening.
"This is a mess!"  I cried.  "What will I do?"  I had not kept track of things very well!
I had no idea what a good cook Clumsy was until he began to help me fix my messy meal.  He added a bit more flour to the goopy cookie dough and fixed it right up!  He then helped me mix up a brand new batch of meatloaf, adding a few things I would have never thought of like red and green peppers.
Mrs. Claus was so pleased when she came home to such a great meal.  Thanks Clumsy!
Merry Christmas!
Santa Claus
P.S.  Do you like to make things in the kitchen?  What do you like to make?  You can click here to tell me or, scroll down to see what other people have written!
A right jolly old elf, in spite of myself. I love Christmas, children, the North Pole, Mrs. Claus, elves, reindeer, snowmen & the list goes on!
My title is CEO: Christmas Elf Online.
Merry Christmas!