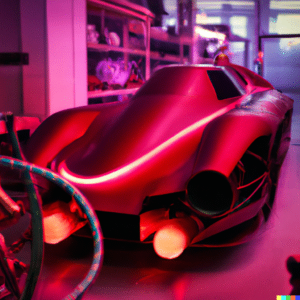 What a day this has been!  My new sleigh was finally ready for a test flight.
Scunner and Professor FumbleBumble have been working hard getting it ready.
Scunner, Professor FumbleBumble and I got up very early.
We harnessed the reindeer to the sleigh. They were ready and excited to go.  I patted them all good morning and climbed into the front seat.  Scunner and the Professor sat behind me.
'Santa, remember that this is fast…' the Professor began as I tapped the reins.
Whoooosh!
Wow!  We took off like a rocket!  My hat flew off as we sped through the air.  I have never gone so fast and I must admit it brought a smile to my face.
We had planned just to fly around the North Pole but before I knew it we were tracking over Canada to my left.
My New Sleigh Is Fast!
'Santa, you're going a little bit too fast' the Professor said.
I turned to look at him and saw that Scunner was hanging off the back.  He was laughing and screaming at the same time.
'Santa, I've lost me troosers' he giggled.
I slowed down and turned home.  Scunner had managed to climb onto the new sleigh and I saw him pointing down.
We had already reached Scotland.  Scunner waved to the mountains and lochs below as we flew past.
Thankfully Scunner had on his long coat.  We quickly got him inside before anyone saw his bare legs.
To be honest, I think the new sleigh is a little too fast – we still haven't found my hat or Scunner's trousers.  So I will use the same sleigh as usual this year.  (I will keep this one for fun though!)
Merry Christmas!
Santa Claus
P.S.  Have you ever been in an airplane?  Do you like flying?  Where did you go? You can click here to tell me about it or, scroll down to see what other people have written!
A right jolly old elf, in spite of myself. I love Christmas, children, the North Pole, Mrs. Claus, elves, reindeer, snowmen & the list goes on!
My title is CEO: Christmas Elf Online.
Merry Christmas!