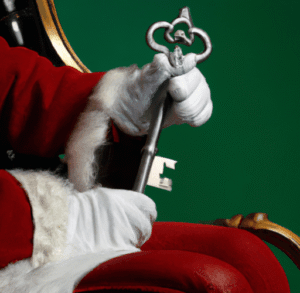 Christmas is saved!
I was getting VERY worried, but the panic is over.
Scunner the grumpy elf and his friends arrived with my magic key first thing this morning.  The magic key they found is the one I use to deliver presents.
Boy, do they look tired. Mrs Claus made them all breakfast, but poor Glaikit ended up falling asleep with his face in his porridge.
I am so grateful to them all.  They had a big adventure.  I cannot believe how many places in the world they visited!  I cannot believe how brave and smart they were too.  They were "awfy" brave and smart I thought!  HHHOL!
"Santa, can Birly and Glaikit stay for a wee while?" Scunner asked between yawns.
"Of course they can Scunner." I couldn't help myself. I leaned down and hugged him as tight as I could.  After all, I do love my grumpy little elf! 💖 I am happy he is home safe and sound.
Scunner started sneezing almost immediately.
"Santa, I'm allergic to your hat!" he wailed.  Then we both laughed.
I watched him as he climbed into bed.
"What should I do with the wild reindeer?" I asked.
"Her name is Haggis" he mumbled. "I'll take her and Tumshie home after Christmas."
Christmas is Saved! So It's Time For A Nap. 😉
And then he started snoring. I looked in on them all and they were all asleep.  There was Glaikit, the daft and brave elf.  Birly the sweet and brave elf was sound asleep.  They and the clever and brave Professor, had all saved Christmas.
I should make sure they all get special presents this year.  Christmas is coming soon.  I am just so happy that Christmas is saved!
Santa Claus
P.S. What do you think I should get them for saving Christmas?  You can click here to tell me or, scroll down to see what other people have written!
A right jolly old elf, in spite of myself. I love Christmas, children, the North Pole, Mrs. Claus, elves, reindeer, snowmen & the list goes on!
My title is CEO: Christmas Elf Online.
Merry Christmas!