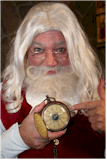 Ho! Ho! Ho!  It's beginning to smell a lot like Christmas!  So, MERRY CHRISTMAS my friends!
I am so glad you found my Santa Claus Christmas blog!  My name is, well, Santa Claus.  Maybe you've heard of me?  I am a big, jolly guy.  I live in a mystical, magical place full of elves, reindeer, snowmen, and of course, Mrs. Claus!
I have been on the Internet for a long time.  I have been reading your emails for a long time.  I have been watching my Christmas web cams seeing who is naughty or nice for a long time.   Ho! Ho! Ho!  I guess I have just been around for a very, VERY, long time!  And now I can say I have been writing my Christmas Blog for a long time too!  So, welcome to "The Santa Claus Christmas Blog".
I hope you have fun reading about me, Santa Claus, and all my friends and family at the North Pole.  I am looking forward to sharing some of my special secrets with you.  (You promise not to tell anyone, right?).
I have lots of silly and funny stories to share with you on the Santa Claus Christmas Blog.  After all, I have been around for a long time.  I have had lots of silly, funny adventures!
I'm really excited about something new on my emailSanta.com website too.  The elves set up a North Pole webcam so YOU can watch ME now!  I hope you'll check it out.
You could also say I know a bit about Christmas and the Christmas Spirit.  The Christmas Spirit is a wonderful thing.  More than anything, my hope and wish is that my blog will fill you with the magic, love and wonder of the Christmas Spirit.  That is one of the best presents I could ever deliver, even if it was only in a Yule blog!  Ho! Ho! Ho!
Merry Christmas!
Santa Claus
P.S.  Are you getting excited about Christmas?  You can click here to tell me how excited you are about Christmas.  Or, scroll down to see what others' have written!
P.P.S.  If you would like to send a letter or your wish list to me, make sure you use  email Santa so I can send a letter back to you!