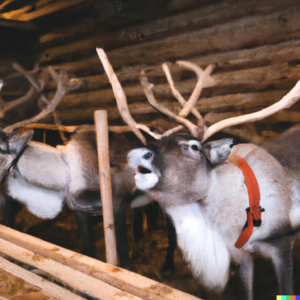 Here is a story about Donder
I love reading the messages you leave on my blog.  I read every single one!  A few people wanted to know the reindeer names.  Did you know I have a reindeer named Donder?
Sometimes, I hear people asking, "What are Santa's reindeer names?".  Well, the reindeer names in order are Dasher and Dancer and Prancer and Vixen.  And Comet and Cupid and Donner and Blitzen!  And of course Rudolph leads my sleigh.  But I said I had a reindeer named Donder.  Well, can I tell you a secret?  Surprise!  Donder and Donner are the same reindeer!
But Who Is Donder And Where Did He Come From?
There is a poem by Clement Clarke Moore.  It is almost 200 years old.  Do you know it?  Here is a little bit that has a list of the reindeer names:
"Now, Dasher! Now, Dancer! Now, Prancer and Vixen!
On, Comet! On Cupid! On, DONDER and Blitzen!
To the top of the porch! To the top of the wall!
Now dash away! Dash away! Dash away all!"
The name of the poem was "A Visit From Saint Nicholas".  But now the poem goes by the name "The Night Before Christmas".  (…when all through the house, not a creature was stirring, not even a mouse!  Do you remember it now? :))
Well, a little after that poem changed its name, Donder decided to change his name!  He changed his name to Donner.  He said it was because of some personal growth he had been going through.  Ho, Ho, Ho!  Of course, some elves think he just liked it better.  Donner is easier to say after all!
Then, a little while ago, he was thinking about changing his name again.  He was thinking of changing his name to "The Reindeer Formerly Known as Donner".  (I wonder where he got that idea from?).  He is a silly reindeer.  But that is one of the reasons why we love him so much!
Merry Christmas!
Santa Claus
P.S.  Do your friends or family call you by any other names?  (Scroll down to leave your message for Santa or to see what others have written!)
A right jolly old elf, in spite of myself. I love Christmas, children, the North Pole, Mrs. Claus, elves, reindeer, snowmen & the list goes on!
My title is CEO: Christmas Elf Online.
Merry Christmas!