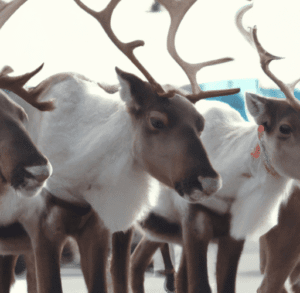 Every weekend before Christmas a different group of Santa's helpers puts on a big parade.  It is a lot of fun.  Everyone at the North Pole loves a parade!
Tonight, the reindeer put on their big parade!
You know Santa's Christmas reindeer, right?  Well there's Dasher and Dancer And Prancer and Vixen, Comet and Cupid And Donder and Blitzen.   And of course, there's the most famous reindeer of all.  Do you know his name?  They were all at the parade.
Before the reindeer parade begins, everyone sits on a bale of hay.  We have nice warm cocoa to drink.  We wear funny hats with antlers and we wear shiny red nose warmers too!  Everyone looks so silly, but we are all having fun!
The parade starts with our new little reindeer.  Yes, Blizzard and Georgie Gingerbread were there!  They were born on New Year's Eve.  I am sure we will have lots of stories about them.
The first float has reindeer playing reindeer games on it.  Those silly reindeer love playing games!
There are lots of other animals in the parade too.  Do you know what other animals there are at the North Pole?
Next is a very big float.  All of the other reindeer show how well they can fly from it.
Santa's Reindeer Christmas Parade Continues!
The elves from the reindeer barn are so silly.  They march and dance with their brooms.  Some of the elves have water buckets.  They pretend they are going to throw water on you.  Oh no! Watch out!   You are going to get wet!  Ho! Ho! And Ho!  Its not water.  Its candy canes!
There is also a big globe on a float.  It is the globe the elves use in the Christmas Eve Control Room.   It tracks Santa and the reindeer all around the world on Christmas Eve!
The parade always ends with my special team of reindeer pulling my sleigh.   They are all dressed up.   Everyone cheers!  A special elf gets to ride in the sleigh too.  This year, Kissy the baby elf got to ride.  She threw kisses to everyone!
After the sleigh is the super duper reindeer pooper pick'er upper and scooper machine.  (We also use it to clean up people's roofs after we visit!)
Merry Christmas!
Santa Claus
P.S.  Do you think it would be fun to see a reindeer parade?  Do you have any special messages for the reindeer?  (You can leave a message for me.  Or, scroll down to see what others have written!)
A right jolly old elf, in spite of myself. I love Christmas, children, the North Pole, Mrs. Claus, elves, reindeer, snowmen & the list goes on!
My title is CEO: Christmas Elf Online.
Merry Christmas!