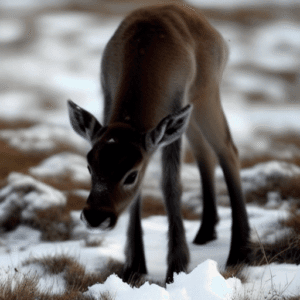 We have great news to start the Christmas Season!  We are having a new little baby reindeer!
The Mommy and Daddy reindeer are very happy.  They know when the little reindeer is coming.  But, they will not tell me.  It is going to be a surprise!  They also have another surprise.  🙂
You know the names of Santa's famous reindeer, right?  There's Dasher and Dancer, Prancer and Vixen, Comet and Cupid, and Donner and Blitzen! And I am sure you recall the most famous reindeer of all!  Why you can even vote for which reindeer will guide my sleigh Christmas Eve!
But how would you like to name a baby reindeer?  A little baby reindeer!  That is the other surprise!  It is for all our friends on my blog.  The Mommy and Daddy reindeer want YOU to give their little reindeer a name!
Is It Going To Be A Boy or Girl Baby Reindeer?
They do not know if it will be a boy or a girl yet.  But, you can give us names for boys and for girls if you like.
I can tell you, everyone at the North Pole is very excited about the new baby reindeer!  Who doesn't love little baby reindeer after all!  I think even the Grumpy Elf is a wee bit excited (but not too much of course).
The elves, in their spare time, have been making little outfits for the new reindeer.  Clumsy the Elf started knitting little antler warmers for them, but well, that's a whole other story.  And Mouse the Littlest Elf is so excited that there will be a reindeer just her size!
So, leave the Mommy and Daddy reindeer a message!  We want to hear all the little reindeer names you can think of!
Merry Christmas!
Santa Claus
P.S. Who do you think the Mommy and Daddy reindeer are?
(You can leave a message for Santa Claus.  Or, scroll down to see what others have written!  Remember, if there is something you want for Christmas, the best way is to email Santa. – The Elves.)
A right jolly old elf, in spite of myself. I love Christmas, children, the North Pole, Mrs. Claus, elves, reindeer, snowmen & the list goes on!
My title is CEO: Christmas Elf Online.
Merry Christmas!