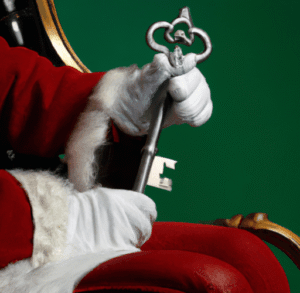 My grumpy elf Scunner finally has my magic key.
If he can get it back to me before Christmas Eve, I can still deliver presents.  I hope he can make it in time!
Here's the email he just sent me:
Another Letter From My Elves
Dear Santa,
Disaster struck.
We got away from DisneyWorld and went to where Birly had left the wild reindeer.
It was gone.
We had no idea where the wild reindeer could be. Birly has your magic key but we cannot leave the poor reindeer all alone so far away from home.
Birly had an idea. She asked Tumshie if he could find the other reindeer.
The next thing we knew we were in the air, zooming through the clouds. Tumshie was flying as fast as he ever has.  We had no idea why at first but it soon became clear.
There was a train below us. It was a big freight train. The Professor brought out his telescope and had a look. The reindeer was on the train. He was stuck in an open carriage with some horses.
"Oh, the poor we thing must have got a fright and took off. Maybe he got confused and landed their by mistake?" Birly said.
She was probably right. I snapped the reins and Tumshie started to dive. Och, I hope nobody saw us.
Soon we were flying above the carriage. The reindeer saw us and made a noise that sounded awfy frightened.
"He's too afraid to take off," Glaikit said. "He needs some help!"
A Brave Elf
I turned to see Glaikit jumping off the sleigh. He's awfy daft but awfy brave too.
Glaikit landed on the carriage.  Then we saw him calming the reindeer and horses down. The next thing I saw he was climbing on the reindeers back.
"Scunner, there's a tunnel ahead!" The Professor yelled.
We had to rise so that we didn't hit it. My heart was in my mouth. We flew over the hill quite slowly. Then ahead of us we heard a sound.
"Yeeeeeeehaaaaaaaaa"
Glaikit and the reindeer had taken off and were flying high in the sky. We joined them and the reindeer flew side by side.
We are on our way home!  Hooray!
Scunner
I am still worried because I leave for my famous flight very, very soon. I hope they make it back in time.
Santa Claus
P.S. Do you think they'll make it back to the North Pole before my Christmas Eve flight? You can click here to tell me or, scroll down to see what other people have written!
A right jolly old elf, in spite of myself. I love Christmas, children, the North Pole, Mrs. Claus, elves, reindeer, snowmen & the list goes on!
My title is CEO: Christmas Elf Online.
Merry Christmas!