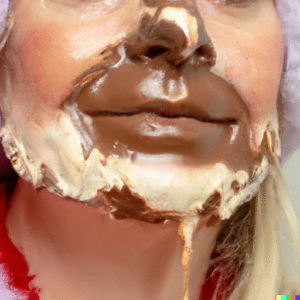 Today was a jolly holly day at the Reindeer Games.  HHHOL!!  I laughed so hard I nearly split my sides.  And my pants!
Vixen had learned all about a sport called the "mud pit belly flop".  What a strange and funny sport.  It is part of the Redneck Games held every year in America.  People take turns at belly flopping into a huge puddle of mud.  The winner is the person who makes the biggest SPLASH!
There is no mud at the North Pole but Vixen had an idea.  She made a huge puddle of melted Christmas chocolate for the Reindeer Games.  YUMMY SCRUMMY!  All of the elves came to watch.  Mrs Claus came too. Everyone at the North Pole loves Christmas chocolate!
Christmas Chocolate Is The Best!
Vixen was first to go.  Ready, steady, flop!  The crowd clapped and cheered as Vixen flopped into the chocolate puddle.  What a good splash!  She looked VERY funny all covered in chocolate.
Dasher was next to go. Ready, steady, FLOP!  Oh no! A big wave of Christmas chocolate went all over Mrs Claus!  She even looked like she had a chocolate Santa beard!
Prancer started to giggle…  …then she started to laugh… then she laughed harder and harder!  Uh-oh!  She was laughing so hard she fell into the pit.  SPLAT!  What a huge splash!  Now EVERYONE was covered in Christmas chocolate.  Ho, Ho, Ho!
"Chocolate Prancer is the winner!" laughed Mrs Claus.
We all had lots of fun cleaning up.  Mrs Claus had made marshmallow cookies.  They tasted jolly nice dipped in melted chocolate.  Mmmmmmm!  Cleaning up has never tasted so good!
Merry Christmas (chocolates!)
Santa Claus
P.S.  Do you like Christmas chocolates? What food would you like to belly flop into? You can click here to tell me about it or, scroll down to see what other people have eaten er, written!
A right jolly old elf, in spite of myself. I love Christmas, children, the North Pole, Mrs. Claus, elves, reindeer, snowmen & the list goes on!
My title is CEO: Christmas Elf Online.
Merry Christmas!