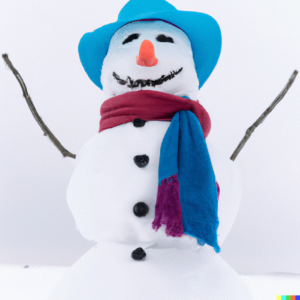 The reindeer had lots of fun today.
They played snowman skittles.
This is Vixen's fav game at the Reindeer Games.
To begin Snowman Skittles, all of the reindeer have to make a snowman.
Blitzen made a tall snowman with a blue hat.  His snowman had a red and blue scarf. There was a carrot nose too.
Rudolph made a fat, round little snowman with a scarf too.  Of course, Rudolph's snowman had a red nose too!
Comet made a small snowman with a big smiley face. It was wearing a plaid vest to keep warm.  Most amazing though was that it was doing a handstand!
But everyone thought Vixen made the best one.  She made a Clumsy the Elf snowman!
Now It's Time For Snowman Skittles!
The snowmen stand in a row at the bottom of the hill.  They are the skittles!
The reindeer go to the top of the hill.  Then they all begin to roll down the hill.  They roll over and over all the way down.  The reindeer try to knock down the snowman skittles!
Blitzen rolled into Comet's snowman – THUMP!  It was as flat as a chocolate chip cookie!
Rudolph rolled into Blitzen's snowman – THUD!  The blue hat landed on Rudolph's red nose!
Vixen rolled straight past Rudolph's snowman.  She rolled past her Clumsy the Elf snowman.  She kept rolling!  Can you guess where she stopped rolling?
Vixen rolled straight into the toy workshop!  Toys went everywhere – CLANG!  She bumped into Clumsy the Elf.  The elves laughed. "Look out!" they said.  "It's Clumsy the Reindeer!"
And everyone laughed and laughed, especially Vixen!
Merry Christmas!
Santa Claus
P.S.  What shape would you make your snowman skittle?  What would you put on your snowman?  You can click here to tell me or, scroll down to see what other people have written!
A right jolly old elf, in spite of myself. I love Christmas, children, the North Pole, Mrs. Claus, elves, reindeer, snowmen & the list goes on!
My title is CEO: Christmas Elf Online.
Merry Christmas!