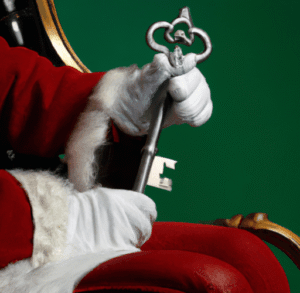 I have been getting VERY worried about my missing magic key.
Without my magic key, I will not be able to get into my friends' homes and deliver presents Christmas Eve!
I hope this latest email from Scunner the Grumpy Elf has good news in it.
An Update on Santa's Missing Magic Key
Dear Santa
The Professor fixed your sleigh and we started our long journey home. I felt like crying and Glaikit looked so sad. We had lost your key and worse, we had lost poor Birly.  Tumshie was so tired, but brave and he pulled us back North.
We could see Africa below us and I wondered if we should look there. The Professor said that it was such a big place. Even if they were there it would be impossible to find them. On we flew.
Oh Santa, I felt so bad. It was all my fault. If I hadn't been showing off, the key would never have been lost. Now Birly and the reindeer were missing too. I felt as though I had ruined Christmas.
The Professor was trying to think of ideas. Some way that we could find them all but without his laboratory we were stuck.
"If only we could call her phone." Glaikit said.
My cousin Glaikit, he's awfy CLEVER!
I had my cell phone with me. Santa, I hadn't used it since we started looking for your key. I brought it out and switched it on. There was a signal and I dialled Birly's number.
It rang and it rang for ages.
"Hello?" She finally answered. "Scunner, is that you?"
My heart leapt. I was so happy and I asked her where she was.
"I don't know. It's hot and there's a castle and I can hear music. I saw a huge mouse the other…"
We had lost signal. A castle, music and a huge mouse? Where can she be?
Scunner.
This is wonderful news!
Santa Claus
P.S.  Where do you think she could be? You can click here to tell me or, scroll down to see what other people have written!
A right jolly old elf, in spite of myself. I love Christmas, children, the North Pole, Mrs. Claus, elves, reindeer, snowmen & the list goes on!
My title is CEO: Christmas Elf Online.
Merry Christmas!